Our Inn's History
hosting fishermen and families since 1949
Welcome to the Walpack Inn.
I moved here when I was 12-years-old with my family from Rutherford, New Jersey. My grandparents were local farmers, my father, Adam, tended bar, and my mother, Louise, was a great cook. She is still remembered for her spaghetti and meatballs and homemade fruit pies. I took over for my parents after I graduated from hotel and restaurant school at the age of 23. The Inn has always been a work in progress and with the help of my wife and two daughters we will continue to do our very best to accommodate all of you who share our love for this magical valley.
I look forward to seeing you here and sharing the beauty of spring, the summer peach pie, the crisp fall leaves, or building you a warm toasty fire to sit by, and sharing my life's work with you, a place that I will always call home.
JIM HEIGIS
Owner; Son of Original Owners Louise & Adam
Fun Fact: Walpack Inn was originally spelled with 2 "L"s but was later changed to one "L" because the sign painter liked how it looked better!
Jim Woolsey played piano for us until he was in his late 90s. People still ask about him every weekend.
My mom Louise was known to enjoy her martinis after a long day of work! Here she is with the local Fire Department.
My parents Louise and Adam ran the restaurant together and farmed the land when they first moved to Walpack.
With our Walpack team when I took over the Inn after my parents passed.
Every winter I'd ski and work in Aspen, CO. This particular year in the 70s I brought back a bartender to work with us at the Inn!
A Beach Boys concert on the lawn in the 80s.
My nephew learning how to bake bread the Walpack way.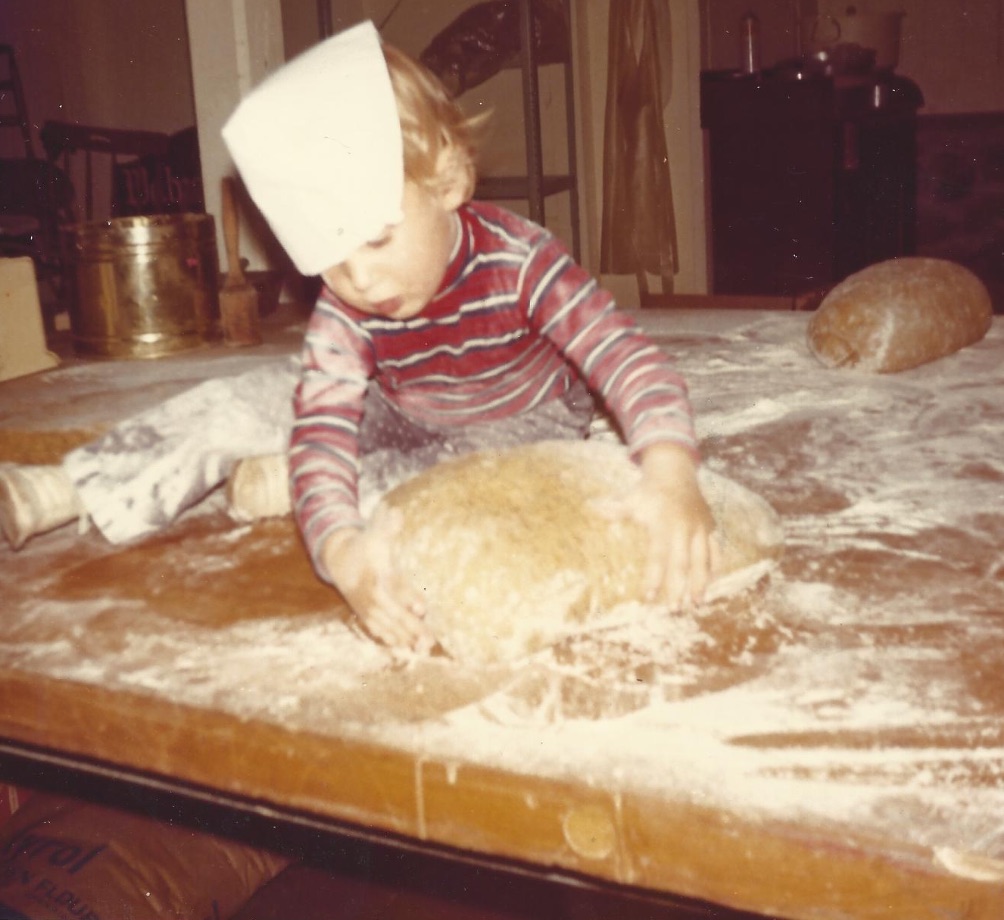 In 1949 neither Louise nor Adam Heigis would ever have guessed they would end up in the restaurant business. But when health problems dictated that Adam needed to retire, these two Bergen County residents looked to family ties in Sussex County. News of a little restaurant for sale in Walpack seemed like a perfect solution. Voila! Louise brought her great cooking skills and Adam his expertise at the bar (more often on the other side of it!). The Inn had been established four years earlier by the Lombardi and Zichella families and was originally housed in that beautiful stone house just a half-mile down Route 615. How often Louise lamented that Joe Lombardi chose instead to build a small wooden structure on 40 acres nearby.
The original building consisted of the top entry level with a bar and two dining rooms that hosted a vast array of regulars … the locals who never missed a chance to stop on the way home from work, hungry hunters and fishermen at five in the morning, and those beloved weekenders who ate, drank, and kept the juke box going into the wee hours of the morning.
The Lombardis had established the Inn as a good steak and spaghetti place. Louise followed that lead and added many creative dishes of her own including those great glazed fresh fruit pies. But what really put The Walpack Inn on the diner's map was Lobster!! Just $1.25 with french fries and cole slaw! They came from all over and lined up for hours to be served.
By 1960, son Jim had graduated from Hotel and Restaurant School and was ready to put his creative ideas to work. The influence of his many trips to Aspen, Colorado can be seen in the first addition, the lower bar, where people are treated to the sight of huge beamed ceilings, slab tables, a magnificent stone fireplace (built by Jim) and the smell of the wonderful, freshly baked brown bread. The Greenhouse dining room was added in 1975 to enhance the views of the Kittatinny Mountain Range and nearby fields with walking paths and deer who feed there daily. Adam found the renovation of his beloved bar into the foyer and restrooms a bit disconcerting, but acquiesced in the name of progress. Adam died in 1981 at age 80 and Louise in 1997 at age 85. Jim's last addition of the Wildlife Room (is it really the LAST, Jim?) with Louise's paintings etched in the glass entry doors pays tribute to them both.
The Heigis Family continues to welcome guests to their comfortable establishment with the same enthusiasm that Louise and Adam did over 50 years ago. Driving into the beautiful Walpack Valley, one is not surprised that they chose to settle here. While sitting in front of the fireplace, dining on wonderfully hearty food, watching the deer in the fields, it becomes very clear why people return again and again to The Walpack Inn.
This history was compiled by Jacquelin Speck.